Sadieville – A Bike Trailhead
Sadie Hill and North Scott County Connector Bike Routes
Sadie Hill Bike Tours
North Scott County Connector Bike Tours
---
Sadieville is located near exit 136 of Interstate 75, 25 miles north of Lexington and 57 miles south of Cincinnati, Ohio. It is in Scott County 12 miles north of Georgetown, the county seat.
Sadieville and Northern Scott County have some of the best back roads for cycling and jogging and back country for hiking and horseback riding in the entire state. The terrain is hilly and much of the area is wooded and/or farm land. The outdoor enthusiast can go for hours without seeing another human being. As they travel they experience breathtaking views, rural landscapes and an abundance of wildlife.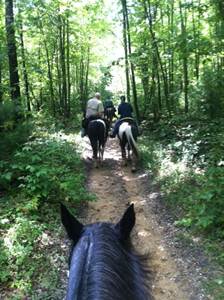 The Legacy Trail (a 12 mile trail from downtown Lexington to the Kentucky Horse Park) is located 20 miles south of Sadieville. Currently, a group from Georgetown is working on funding for a feasibility study and plan to extend the Legacy Trail into Georgetown.
In 2012 Kentucky Fish and Wildlife purchased 2,500 acres less than 5 miles south of Sadieville on State Highway 25. There are miles of hiking trails available, as well as bird watching, hunting and fishing at the Veteran's Memorial Wildlife Management Area. Scott County Fiscal Court owns 1,300 acres 7 miles southwest of Sadieville. It offers 12 miles of horseback and mountain bike trails.
The Eagle Creek Horse Motel is 2 miles from Sadieville off Highway 25. They offer overnight accommodations and 8 miles of equine trails.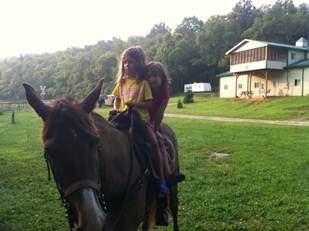 The Kentucky Horse Park is located 16 miles south of Sadieville. Annual Attendance is 900,000 with 400 events scheduled annually.
Ark Encounter Theme Park, LLC purchased 800 acres near Williamstown, KY, 18 miles north of Sadieville. Phase 1 will open in 2014-2015. A feasibility study states that the first year will bring 1.6 million visitors and 500,000 are expected annually. The economic impact expected is 65 million annually.
Sadieville is bordered by Eagle Creek which has the potential for water trail development.
The City of Sadieville and the Scott County Planning Commission have produced maps for road cyclists. There are 8 road bike routes that offer a total of over 128 miles of riding in northern Scotty County.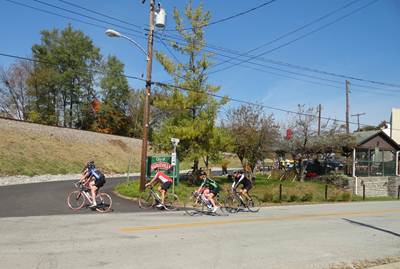 There is a trail planned from the interstate exchange to Sadieville and a historic trail around town for a total of 5 miles.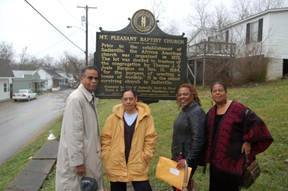 There is a hiking/mountain bike trail planned from Sadieville to parts of the surrounding area for a total of 13 miles.
The Bluegrass Equine and Trails Alliance is working on a trails system throughout the region. Part of the system will run north/south parallel to Interstate 75. Sadieville is 2.5 miles from the Interstate Exchange (Exit 136). Sadieville's Pike Street Park will serve as the trailhead/trail stop for Sadieville and northern Scott County.
Our Trail Development Partners:  Kentucky Adventure Tourism, Preservation Kentucky, Bluegrass Area Development District, Bluegrass Tomorrow, Bluegrass Cycling Club, Scott County Planning Commission, Scott County Tourism Commission, Scott County Parks and Recreation, Backcountry Horsemen of Eagle Creek, and other groups of outdoor enthusiasts from Scott, Fayette, Owen, Grant and Harrison Counties.
Vision for Trail Town Sadieville: Sadieville will offer a major trailhead/trail stop for the outdoor enthusiast that will connect with regional and state trails systems. Sadieville will be a destination for the traveler looking for a small, quiet, historic town to lodge, rest, dine and play. It will be a getaway from the rush of the city and a stop for equestrians, cyclists, hikers and trail enthusiasts. Sadieville will offer unique dining and lodging in a hostel, cabin, cottage or bed and breakfast. It will be a place to bring the family and rent a bike or canoe for the day. It will offer historic tours, gift shops and art galleries.
ROY CORNETT & FIRST LADY BESHEAR